UIkit and Digital Assets Management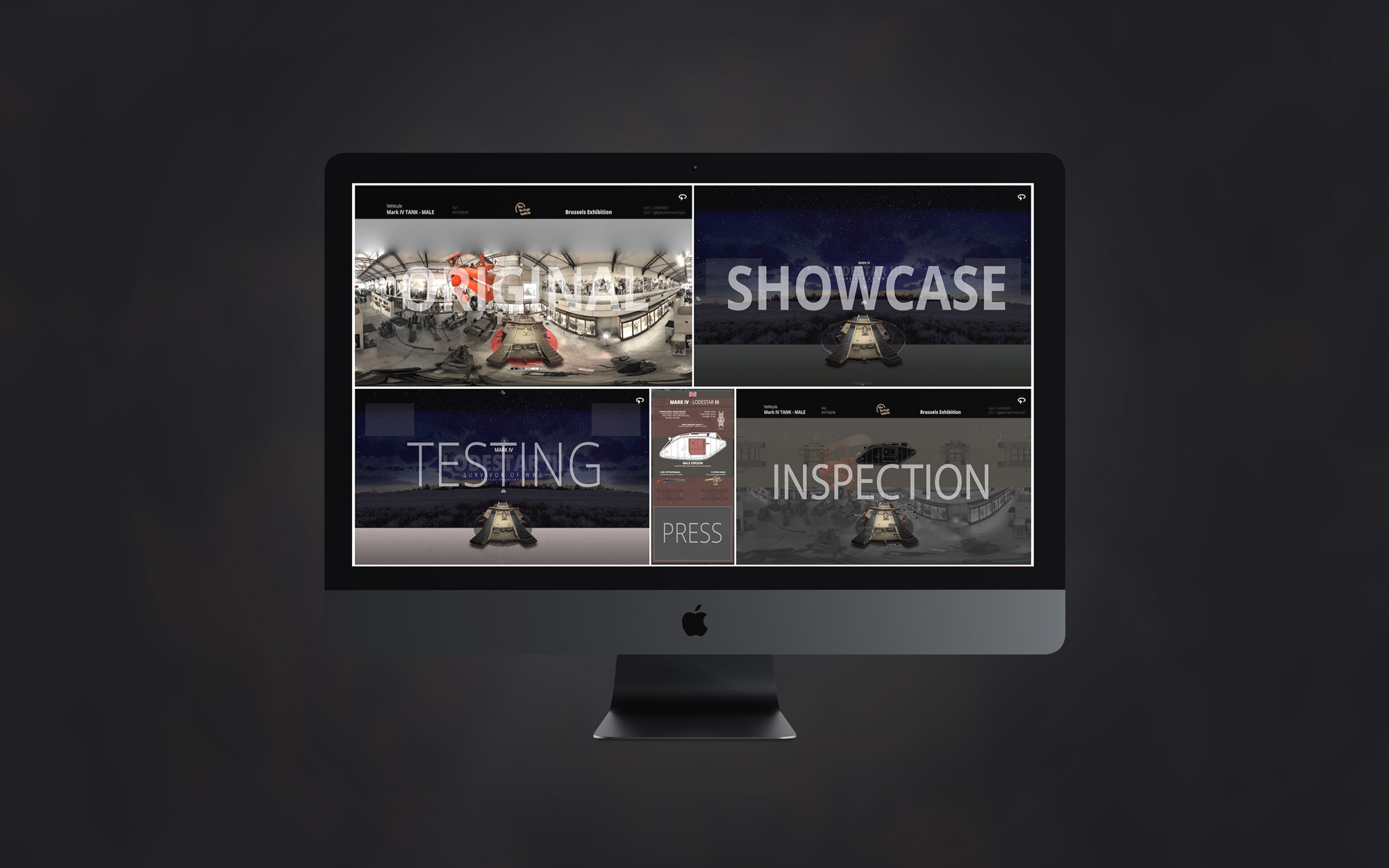 So the idea is to use gamification tools to enhance data management around the patrimonial object. Here, the sample object is the WW1 vehicle tank MARK IV stored and displayed in ground vehicle section of the Military History and War Heritage Museum located in Park, Brussels - Belgium. The War Heritage Institute, holding of the Museum (which is a multi-location network across Belgium soil) is currently benchmarking options for migrating and improving digital management of collections database, and looking for consolidating digital media assets management workflows.
At first, we had to mindmap what kind of data we expect to gather around the object. Our approach here is to set up layers by target :
CONSERVATIVE APPROACH (What it is and what we know about it)
EDUCATIONAL/MARKETING/GENERAL PUBLIC DISPLAY useful content
ADMINISTRATIVE & SCIENCE Complementary Records
Sample Mindmap of Item's related assets
Collecting and assembling at the same time
We keep in mind we do not want to totally dissociate scientific content, technical documentation, and educational material, for at least 2 reasons :
Detailed photographs and accurate on-site measurements may serve both scientific research and curation/maintenance crews.
Different visitors and audience profiles may be interested in various data, which cannot be -exhaustively- physically displayed all at once in exhibition showrooms.
Keeping the corpus interrelated and homogeneous facilitates its hygiene, so its consistency for all stakeholders
Hence, our base would be a scalable and modular digital doppelganger, assorted with a simple display system that would be able to serve as a cross-purpose and cross-audiences digital asset management toolbox for the specific item.
If it appears efficient and relevant, the system could be implemented at a much larger scale for other, similar groups of objects.
Here would be the draft for the prototype navigation plan, entry point works both for internal and external audiences :
ITEM Test TANK 360 NAVIGATION PLAN
FORECAST AUTOMATION & maintenance
The main issue here is the massive amount of sub-navigational files produced by the machine on top of the initial corpus. Long story short, we may be talking about potentially thousands of files, enough to scare a timorous stakeholder if he is not familiar with the technical background of digital ecosystems. Both for security, and User-friendly concerns, they must absolutely remain hidden to non-technical viewers and revealed only to IT maintenance and advanced UX assessed collaborators to avoid audience overflow.
This should not be an issue that restrains the toolkit ambitions though, but should drive to more clever technological choices while building the UIkit socket.
At this point, my recommendations tends to:
Always give priority to widely spread standards for accessible maintenance, such as HTML/CSS/Javascript/SQL development languages
Think Web-First, if not necessarily Saas*, always be ready for remote collaboration
Base product ownership on simple free/cheap tools like Filezilla, User-friendly opensource commons CMS leaders such as Wordpress, Joomla or Drupal.
Setup a local in-house backup strategy, to prevent any major data loss if web services are failing
In other words:
Never get trapped by custom development commercial fallacies resulting in sub-contractor high dependancies (e.g. "my solution is better because it is customed, optimized, blah-blah-blah bullshit-bullshit...")
Be Cloud-ready, even if you actually don't use big data corporate infrastructures and every crew requirements and maintenance services that go along (Amazon Web Services, etc...), you'll be able to scale way much easily
Crews may be allowed to build with Adobe softwares, Microsoft Office but also Google suite, OpenOffice, Gimp, GardenGnome, Sketchup, Autocad, etc... as long as there is an implementation of a trans-standard compatibility storage policy by using universal output delivery frameworks.
This will always result in effective troubleshooting of hidden costs, disponibility or maintenance failures avoidance, or even more catastrophic events protection.
Understanding the variety of digital file families is now easy for most people as the digital age has become a common thing. However, educating many managers on how everything but the "office documents" cannot be centralized and well managed by traditional office suites is still a challenge. This is mainly because historical office solutions providers are poorly motivated by transmedia management that threatens their captive businesses. Using the vast amount of common ignorance and assumptions about technology, they consciously cultivate an orchestrated fog to hide the inconsistencies and weaknesses inherited from the rigidity of their systems.
That said, specialization is not a bad thing, and powerful tools provided by Microsoft, Autodesk, Adobe, or Quark must still be used if they are relevant, and teams' productivity is efficient while using them. The only thing here is: long term digital cataloging practices have to think beyond brands, and keep the knowledge, hence the asset data, at the center of their scope.
For exemple, in 2021, you cannot work on a 2Gb photoshop "psb" document remotely nor in collaboration efficiently. So you have to be able to manipulate it locally on a powerful workstation when needed. BUT: what it contains should always be double-stored online via a standard asset compendium backup gallery. Arbitration is the key here, and probably the future of automation tools too, because producing manually, or even with basic "export layers to files" tools the hundreds of times it will happen in an asset lifecycle will cost tremendous human, and machine time and efforts.
This raises questions such as:
When do I ask my team to backup critical production files?
How long will I need to store proprietary file types of production software my crew or subcontractors are currently using?
How can I set up trigger alerts for when my file standards compatibility obsolescence may require mass conversion campaigns?
We think we may not have every answer yet, but some ideas of the current experiment may contribute to a better intuition to healthy tendencies or at least education on the main pitfalls.
Tags: User Experience, Navigation, assets, management, strategy, conservation, digital hygiene, storage, laboratory, experiments, transmedia, datamap, maintenance, saas, webfriendly